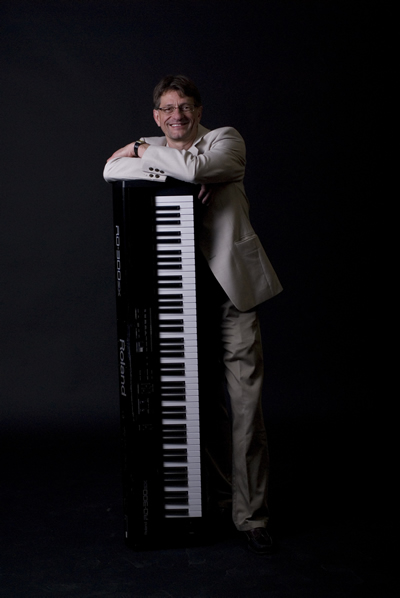 Jerry Coleman has been entertaining audiences with his musical and vocal talent for many years.  He led a number of popular bands during his early years in music and was a recognized stand-out on keyboards and vocals.
In 1987 he was hired by Warner Brothers recording artists, The Vogues as a lead singer ("5:00 World", "My Special Angel, Turn Around, Look at Me", "You're the One") and performed with the group for seven years.
Jerry also performed for seven years as keyboardist and  vocalist for The Jaggerz famous for their 1970 number one song, "The Rapper".
He has performed on stage with such stars as Frankie Valli, Little Anthony, Del Shannon, Dion, Jay and The Americans, The Skyliners, The Tokens, The Drifters, The Crystals, Tommy Roe, Lou Christie, Maratha Reeves, Ronnie Specter, Peter Noone and Felix Cavaliere to name but a few.
His repertoire is vast and eclectic, spanning decades of music from old standards to current pop, show tunes, country, ethnic, patriotic and more, and an album of original music is in production.  Most of his current work is performed with partner Randy Eugene, and he has recently also teamed up with the great Joel Lindsey, guitarist/vocalist from London, England.  Jerry is also keyboardist and backup vocalist for the popular "Elite Show Band", which plays for and MC's weddings and corporate events throughout the year.  www.eliteshowband.com
Whether the evening calls for dinner music, cabaret, wedding, anniversary, reunion, audience participation, private party, or just a very special occasion, Jerry Coleman is sure to please!
Songs
5:00 World, Pretty Woman, Margaritaville, Brown Eyed Girl, You've Got A Friend, Candle in the Wind, Tiny Dancer, Crocodile Rock, Cat's in the Cradle, Dream Lover, Peaceful Easy Feeling, The Weight, Send in the Clowns, Mr Bojangles, Runaway, Sunny Side of the Street, Wonderful Tonight, Since I Don't Have You, New York New York, My Way, Crazy, Ring of Fire, Happy Together, Run Around Sue.
Artists
The Beatles, James Taylor, The Vogues, Billy Joel, Elton John, The Platters, The Turtles, The Eagles, Eric Clapton, Roy Orbison, Neil Diamond, The Monkeys, Van Morrison, Harry Chapin, Bobby Darin, Tony Bennett, Cole Porter, Frank Sinatra, George Gershwin, Johnny Cash, George Jones.
Styles
Pop, Rock, Blues, Ballads, Show, Standards, Country, Folk, Ragtime, Irish, Patriotic, Original.